Subjects of Study
1. Orthodontics & Dentofacial Orthopedics.
It is the branch of dentistry which deals with alignment of irregular teeth by removable and fixed appliances. Teaching focus is on facial growth and development and introduction to the Concepts and practical aspects of orthodontic diagnosis and treatment. Advanced diagnostic facilities such as computerized cephalometrics, computerized growth prediction and other ultra modern equipment for rendering state- of the art orthodontic care are demonstrated
2. Oral Medicine & Radiology.
Oral Medicine branch of dental sciences deals with clinical presentation of dental and oral diseases, oral manifestation of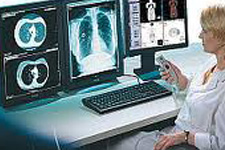 the systemic diseases and the effect of oral diseases on patient health. Focus is laid on history-taking techniques, comprehensive patient examination, use of diagnostic aids, tests, diagnosis of pathology and formulation of treatment plans and treatment by drugs. Radiology subject includes a detailed didactic and practical presentation of radiological techniques essential for diagnosis of dental, oral & maxillofacial diseases. Dental Radiology includes application of radiation for radio graphic interpretation of normal parts and pathological lesions. It also includes basic principle of treatment by radiation (Radiotherapy). Forensic Odontology i.e. Medico-legal aspects in Dentistry is also dealt in this subject.
3. Paediatric & Preventive Dentistry.
Education of Oral health problems during development and growth of oro-facial complex of the child and adolescent are covered here. The course also includes training in patient management, preventive and restorative dentistry, treatment of traumatic dental injuries and minor tooth movements in children.
4. Periodontology.
This branch of dentistry deals with normal as well as diseased tissues surrounding the teeth i.e gums and surrounding bone etc. The students are taught about the prevention and treatment of diseases of gums etc. They are educated about various oral hygiene measures to motivate the patients to maintain their oral health. In this department students are also taught to do comprehensive treatment of gums with non- surgical and surgical methods with latest technology including bone grafts
5. Oral & Maxillofacial Surgery.
6. Prosthodontics and Crown & Bridge.
7. Conservative Dentistry and Endodontics
8. Public Health Dentistry.